Welcome
Welcome to the 11th Annual Indiana University Traditional Powwow.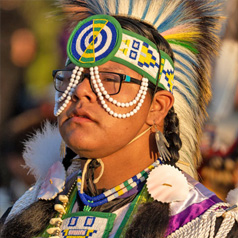 Beginning in 2002, the Indiana University Powwow was initially a competitive dance event organized by Prof. Wesley Thomas. In 2011, Prof. Brian Gilley, then-director of the First Nations Educational and Cultural Center, rebranded the dance to its current format.
The IU Traditional Powwow began as a much smaller dance at the Neal-Marshall Black Culture Center Grand Hall. Each year, the powwow outgrew its space, moving from the Black Culture Center to Cedar Hall to Willkie Auditorium to the IMU Alumni Hall and Solarium. In 2017, the Traditional Powwow moved to an outside location, Dunn Meadow. Then, after the pandemic, it moved to the Cramer Marching Hundred Hall and, this year, to Wilkinson Hall.
We are very grateful and excited for its continued presence within the IU and Bloomington community, and we look forward to its growth in the future.